Příklad staroseverských postelí a lůžkovin
V reakci na množící se dotazy, jak raně středověcí lidé spali a jakých prostředků využívali ke kvalitnímu spánku, jsem se rozhodl sepsat průřezový článek, který by problematiku přiblížil českému čtenářovi. K bádání můžeme využít jak samotných archeologických nálezů, které se vztahují k velmi bohatým hrobům, tak písemných zmínek z rodových ság, které se zabývají i obyčejnými lidmi. Pokud tyto prameny zkombinujeme, získáme poměrně ucelený obrázek, který je – přes některé odlišnosti – v mnohém podobný stavu nedávnému.
Běžný člověk
V raně středověké Skandinávii lidé běžně spali nazí či odění do lněného spodního prádla (Short 2010: 115), což se zdá být praxí i na Kontinentu (Dětmar z Merseburku: Kronika, V:6). Písemné prameny nám rovněž jasně ukazují, že manželé spali spolu ve stejném loži, a pokud tak nečinili, značilo to problémy, které mohly být důvodem k rozvodu (např. Píseň o Rígovi; Sága o Gíslim 9, 16, 17, 26). Lůžko se ve staroseverštině označovala jako beðr, hvíla, rekkja nebo sæng. Předpokládá se, že snídaně probíhala kolem sedmé hodiny ranní, kdy již všichni byli na nohou; z některý nepřímých poznámek z rodových ság se zdá, že o půlnoci se již běžně spalo.
Téměř žádný archeologicky zachycený domů nepočítal s přístavky pro jednotlivce či páry – takové uzavíratelné ložnice (lokrekkja, lokhvíla) jsou známy pouze u některých zachovaných halových budov (např. Stöng) a v ságové literatuře, kde jsou vyhrazeny prominentnímu páru hospodáře a hospodyně (Vidal 2013: 57-58). Většina obyvatelů domu spala podle dostupných možností na zemi u ohně či na zvýšeném dřevěném stupínku (set), na lavici (bekkr) či v podkroví (lopt), tedy ve veřejném prostoru (Foote – Wilson 1990: 160; Graham-Campbell 1980: 10; Short 2010: 91). Scénu dokreslovali kouř a tma. Nakolik dobře bylo možné dům vytopit, je otázka, ale určitě nebudeme daleko od pravdy, pokud řekneme, že takováto víceméně improvizovaná lůžka sestávala nejspíše ze slamníku, jednoduchého polštáře, vlněných pokrývek či kožešin. Na statcích lze rovněž spekulovat o speciálních budovách, ve kterých spala čeleď (svefnhús), je nicméně nutné podotknout, že takové zmínky jsou vzácné a ve většině rodových ság spí čeleď na stupíncích umístěných na bocích síně (skáli). Zda lůžka mohla mít podobu mobilních dřevěných konstrukcí, které by se během dne kupříkladu uskladnily v podkroví, nevíme vůbec nic, a taková možnost se nezdá být příliš pravděpodobnou.
Kresebná rekonstrukce interiéru budovy v Haithabu. Flemming Bau.
Plány některých typů skandinávských domů.
Nahoře: dům z Haithabu (Schietzel 1981: 45, Abb. 21).
Uprostřed: dům z Aggersborgu (Roesdahl – Sindbæk 2014: 55, Fig. 3.5).
Dole: dům ze Stöngu (Foote – Wilson 1990: 156).
Bohatý člověk
Když jsme popsali spíše improvizované spaní čeládky, můžeme se nyní podívat, jak se spalo pánům usedlostí a jejich vládcům. Pokud domy měly přistavované ložnice, jednalo se o velmi malé místnosti – pro ilustraci si můžeme uvést přístavek ze Stöng, který má zhruba 1,5 × 1,5 m (Short 2010: 91). Postele, které se zachovaly, nejsou o mnoho větší. V Osebergu byly pravděpodobně uloženy nejméně tři postele se zvířecími hlavami a nejméně tři méně masivní postele (Grieg 1928: 81-105), zatímco v Gokstadu byly nalezeny fragmenty pěti postelí, z nichž dvě jsou natolik kompletní, že je možné je zrekonstruovat (Nicolaysen 1882: 42).
| Lokalita | Materiál | Celková délka | Celková šířka | Celková výška |
| --- | --- | --- | --- | --- |
| Oseberg, velká postel | buk | 2,20 m (vnitřní délka 1,65 m | 1,9 m (vnitřní šířka 1,77-1,80 m | 1,59 m |
| Oseberg, 192 | buk | 1,78 m | 1,12 m | - |
| Oseberg, 234 | buk | 1,72 m | 1,2 m | - |
| Gokstad | - | 2,27 m | 1,09 m | 0,7 m |
| Gokstad | - | 1,43 m | 1,10 m | 0,75 m |
Kopie postelí z Osebergu a Gokstadu. Grieg 1928: Fig. 40, 42, 43, 51.
Vnitřní prostory některých postelí jsou natolik krátké, že dávají vznik otázce, zda postele nebyly určeny ke spánku vsedě. Tomu by nasvědčovaly také malé rozměry ložnic a některé písemné zmínky (např. o skonání Unn v Sáze o lidech z Lososího údolí 7). Takováto poloha by zřejmě mohla souviset se zachováním majestátu i během spánku.
U dřevěných postelí bylo standardem, že byly měkčeny slamníkem (hálmr). Tak se v Sáze o Gíslim (26) můžeme dočíst, kterak Ref a jeho žena schovali Gísliho před pronásledovateli do slamníku ve své posteli poté, co z ní sundali lůžkoviny (fǫt). Tento standard samozřejmě velmi bohatým lidem nestačil, a tak byl slamník nahrazován luxusnější péřovou matrací (dýna). Dokládá to 31,268 kg peří nalezených v Osebergu (Vedeler 2014: 290), které zřejmě bylo bylo zašito do látky rostlinného původu; na fragmentech jsou dokonce viditelné známky proležení (Ingstad 2006: 227–229). S tímto jedinečným nálezem koresponduje Sága o lidech z Eyru (50), jež vypráví o Þórgunně, která si na Island ze zámoří přivezla truhlu s dovezeným ložním prádlem: "Když přijela na dvorec, ptala se, kde bude její lože, a když jí bylo určeno místo, odemkla truhlu a vyndala z ní ložní prádlo, bohatě vyšívané, a přes postel rozprostřela anglická prostěradla a hedvábné přikrývky. Vyndala též ložní nebesa se všemi závěsy. Byla to tak skvělá výbava, že nikdo předtím takovou neviděl." Když se jí selka Þuríð, která ji tuto výbavu záviděla, optala na cenu, odvětila Þórgunna takto: "Nebudu kvůli tobě spát na slámě."
O pokrývkách (hvítill, kult, kǫgurr) a prostěradlech (blæja) nevíme téměř nic. Můžeme předpokládat, že byly vyráběny z různých materiálů a i zde byly rozdíly ve kvalitě. V Osebergu byla nalezena rovněž vlněná textilie, která mohla být pouzdrem uvnitř skrývajícím peří a mohla být pokrývkou (Ingstad 2006: 227–229). Z výše zmíněného úryvku o Þórgunně lze získat informace o hedvábných přikrývkách a prostěradlech z anglického lnu. Můžeme si dobře představit, že len byl pro výrobu prostěradel ideálním materiálem. Co se týče polštářů (hægindi), známe nejméně dva archeologické nálezy z 10. století a další, které jsou starší. Současně jsou polštáře zmíněné v rodových ságách. Oba polštáře, které máme k dispozici, jsou vyrobeny z vlny a vycpány ptačím peřím. Jeden z nich se zachoval v bohatém hrobu z Mammenu a má rozměry 78 × 28 cm (Østergård 1991: 136), druhý byl nalezen na severonorském Øksnesu, měří 30 × 30 × 4 cm a je vycpaný peřím kajky, kormorána a racka (Dove – Wickler 2016).
Analýzy použitého peří jsou prováděny velmi vzácné. Obecně se soudí, že peřím vycpané prádlo je známkou vysokého statutu. V současné chvíli znám pouze šest norských (Oseberg, Gokstad, Grønhaug, Haugen i Rolvsøy, Søndre Moksnes and Øksnes) a dvě dánské lokality (Mammen, Hvilehøj), ve kterých bylo nalezeno peří užité v ložním prádle, a některé z nich patří mezi ty nejvýznačnější hroby jaké známe. V literatuře se peří objevuje jako známka luxusu (Ingstad 2006: 227) – tak například vědma v Sáze o Eiríkovi Zrzavém (4) musí být usazena na polštář vycpaný slepičím peřím, Harald Krásnovlasý podle Písně o Haraldovi (6) v mládí nosí rukavice vycpané prachovým peřím a jeho žena je po smrti vystavena, "sedě na peří" [péřovém polštáři] (Sága o Haraldu Krásnovlasém 26). Současně se peří či výrobky je obsahující objevuje jako forma výběru daně a kořist (Plavby Óhthera a Wulfstána; Foote – Wilson 1990: 160), z čehož usuzujeme, že šlo i o cenný obchodní artikl. Přesto byla kvalita peří odstupňována, a to hrubostí (brka [fiðri] × prachové peří [dúnn]), tak původem. Nejníže stálo peří husí a slepičí, výše pak mohlo stát peří mořských ptáků. Nejvýše stálo prachové peří kajky mořské (æðardúnn), které je dodnes nesmírně drahou komoditou, ceněnou pro své jedinečné výhřevné vlastnosti. Zdá se, že skandinávské hroby obsahující peří do jisté míry obsahují právě kajčí prachové peří.
Je důležité podotknout, že lůžku se přikládal velký význam. Bylo udržováno čisté, o což se mohlo starat jak služebnictvo, tak sama hospodyně.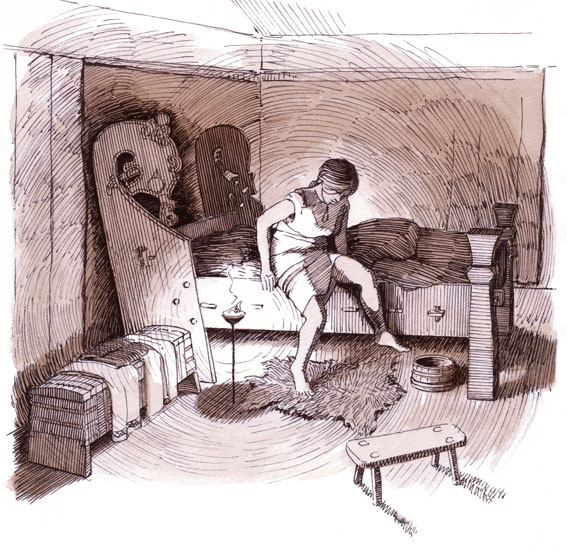 Kresebná rekonstrukce postele z Osebergu. Flemming Bau.
Člověk na cestách
Pokud byl člověk na cestách, musel částečně slevit ze svých nároků, ale přesto počítal s kvalitním přenocováním. V první řadě byla cesta, nebyla-li dlouhá, naplánována tak, aby cestující neustále pobýval ve staveních. Platilo za obvyklé, že se host mohl dočkat jídla, pití, konverzace a následně místa na spaní. Běžní cestující mohli přespat ve stejné budově s čeládkou, nebo ve stodolách a čelednících. Egil ze Ságy o Egilu Skallagrímssonovi při svých návštěvách Norska přespává v čeledníku (eldahús, kap. 43), ve kterém je dostatek slámy, a ve stodole společně s koňmi (kornhlaða, kap. 71). Ve městech bylo zřejmě možné si pronajmout celou budovu, do které by se vešla například posádka lodi (Sága o Þorsteinovi Bílém 4), podobně jako poutní domy na Kontinentě. Kam byly umisťováni vzácné návštěvy, nemůžeme sdělit, ale můžeme pokládat za jisté, že zejména bohatí statkáři byly na tyto eventuality připraveni.
Pokud se cestovalo lodí, bylo možné buďto pravidelně na noc zakotvit (dovolovala-li to povaha cesty, např. Sága o Egilu Skallagrímssonovi 49), nebo se spalo přímo na palubě. Na námořních cestách se spalo pod plachtou v kožených spacácích (húðfat); kupříkladu v Knize o záboru země spí jistý hoch na lodi v tulení kůži. Bohatí majitelé lodí si na palubu mohly vzít rozkládací stany a postele, jak můžeme vidět na příkladech z Gokstadu a Osebergu.
Dostal-li se člověk do složité situace a musel přečkat v přírodě, použil veškeré dostupné prostředky. Bylo běžnou věcí, že pokud se cestovalo na určitá místa pravidelně (sněm), postavili se na místě kamenné základy (tzv. búðir), takže během návštěv bylo možné tuto stavbu zastřešit plachtou. Totéž se ukazuje i v případě, kdy lidé přišli o své domovy a museli narychlo improvizovat. Krátkodobější pobyty mohly vyřešit přirozené přístřešky, stany a plachty. Obyčejný člověk mohl na cestách využít spacáku, kožešiny, vlněného pláště, deky a podobně, nebo využil místních izolačních zdrojů. V Sáze o Njálovi (153) nalezneme pasáž, ve které ztroskotaná posádka sbírá mech, jímž se posléze přikrývá.
---
Bibliografie
Dětmar z Merseburku: Kronika. Překlad Bořek Neškudla, verše Jakub Žytek, úvod Martin Wihoda, poznámky Jiří Ohlídal, Praha 2008.
Kniha o záboru země = Landnamabók I-III: Hauksbók, Sturlubók, Melabók. Ed. Finnur Jónsson, København 1900.
Píseň o Rígovi = Píseň o Rígovi. Přel. Ladislav Heger. In: Edda, Praha 1962: 169–181.
Plavby Óhthera a Wulfstána = Plavby Óhthera a Wulfstána. Přel. Klára Petříková. In: Čermák, Jan (ed.). Jako když dvoranou proletí pták, Praha 2009, s. 540–545.
Sága o Egilu Skallagrímssonovi = Saga o Egilovi, synu Skallagrímově. Přel. Karel Vrátný, Praha 1926.
Sága o Eiríkovi Zrzavém = Eiríks saga rauða, ed. Einar Ól. Sveinsson & Matthías Þórðarson, Íslenzk fornrit IV, Reykjavík 1935. Do češtiny přeloženo jako: Sága o Eiríkovi Zrzavém , přel. L. Heger, in: Staroislandské ságy, Praha 1965, 15–34.
Sága o Gíslim = Sága o Gíslim. Přel. Ladislav Heger. In: Staroislandské ságy, Praha 1965: 133–185.
Sága o Haraldu Krásnovlasém = Haralds saga hins hárfagra. Ed. Nils Lider, H.A.Haggson. In: Heimskringla Snorra Sturlusonar I, Uppsala 1870.
Sága o lidech z Eyru = Eyrbyggja saga, ed. Einar Ól. Sveinsson & Matthías Þórðarson, Íslenzk fornrit IV, Reykjavík 1935. Do češtiny přeloženo jako: Sága o lidech z Eyru, přel. L. Heger, in: Staroislandské ságy, Praha 1965: 35–131.
Sága o lidech z Lososího údolí = Sága o lidech z Lososího údolí. Přel. Ladislav Heger. In: Staroislandské ságy, Praha 2015, s. 213–362.
Sága o Njálovi = Sága o Njálovi. Přel. Ladislav Heger. In: Staroislandské ságy, Praha 1965.
Sága o Þorsteinovi Bílém = Þorsteins saga hvíta. Ed. Jón Jóhannesson. In: Íslenzk fornrit, 11. Austfirðinga sögur, Reykjavík 1950.
Þorbjǫrn hornklofi : Píseň o Haraldovi = Þorbjǫrn hornklofi : Haraldskvæði (Hrafnsmál), ed. R. D. Fulk. In: Skaldic poetry of the Scandinavian Middle Ages. Vol. 1, [Poetry from the kings' sagas 1 : from mythical times to c. 1035], ed. Diana Whaley, Turnhout 2012: 91–117.
Dove, C. J. – Wickler, Stephan (2016). Identification of Bird Species Used to Make a Viking Age Feather Pillow. In. Arctic, Vol. 69/1, 29–36.
Foote, Peter – Wilson, David M. (1990). The Viking Achievement, Bath.
Graham-Campbell, James (1980). Viking Artefacts: A Select Catalogue, London.
Grieg, Sigurd (1928). Osebergfunnet II : Kongsgaarden, Oslo.
Ingstad, A. S. (2006). Brukstekstilene. In: A. E. Christensen – M. Nockert (eds.). Oseberg-funnet. Bind IV: Tekstilene, Oslo, 185–276.
Nicolaysen, Nicolay (1882). Langskibet fra Gokstad ved Sandefjord = The Viking-ship discovered at Gokstad in Norway, Kristiania.
Roesdahl, Else – Sindbæk, Søren (2014). Terminology and general plans. Excavation. Documentation. In: Roesdahl, Else et al. Aggersborg. The Viking-Age settlement and fortress, Aarhus, s. 53-80.
Schietzel, Kurt (1981). Stand der siedlungsarchäologischen Forschung in Haithabu – Ergebnisse und Probleme. Berichte über die Ausgrabungen in Haithabu 16, Neumünster.
Short, William R. (2010). Icelanders in the Viking Age: The People of the Sagas, Jefferson.
Vedeler, Marianne (2014). The textile interior in the Oseberg burial chamber. In: Bergerbrant, Sophie – Fossøy, Sølvi Helene (ed.). A Stitch in Time: Essays in Honour of Lise Bender Jørgensen, Gothenburg: 281-299.
Vidal, Teva (2013). Houses and domestic life in the Viking Age and medieval period: material perspectives from sagas and archaeology, Nottingham: University of Nottingham.
Østergård, Else (1991). Textifragmenterne fra Mammengraven. In. Iversen, Mette et al. (1991). Mammen. Grav, kunst og samfund i vikingetid, Århus 1991: 123-138.